I'm starting the building of a walled town set somewhere in south-eastern Germany / Bohemia. It will be used with a small but growing collection of Thirty Years War in 10mm as well as WSS (which is a much longer term project). They are both being built with the excellent figures from Pendraken.
I know I will stretch some of the architecture in terms of period - but it is the look I am going for.
I have been getting great inspiration and learning from panzerfaust200 over on the Wargamers' Forum as he builds his 1/72nd scale town of Neustadt.
On a family holiday to Europe (when we Australians were allowed to leave our country) 4 years ago, we spent some time in the stunning town of Rothenburg ob der Tauber where I was blown away by the town walls and the architecture (it helped that it was winter and they had a lot of places selling Gluwhein).
So this will be a walled town with various half timbered buildings as well some later more Baroque looking ones. I have kits from Faller, Vollmer and Kibri.
When I saw the pictures of the town hall in Lindau I knew it had to be a centrepiece for the town given the painted roofs and the frescoes on the frontage. I built this over the past few weeks and still need to place the finer pieces of decoration on it and do some weathering.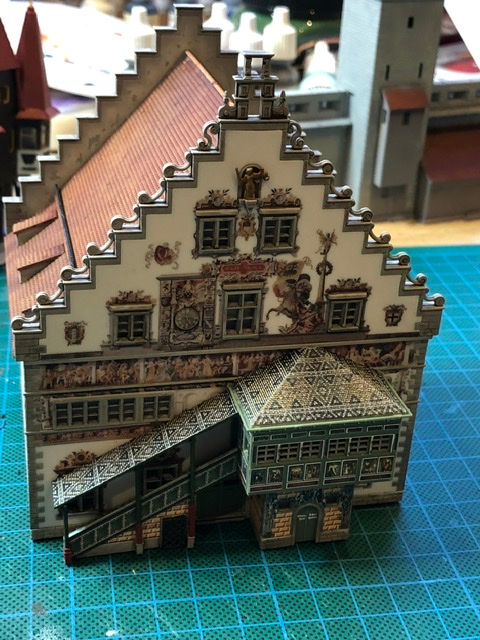 Next up was a half timbered market building from Kibri. It was only after ordering a number of the Kibri buildings that I realised that their half timbering consists of a sticker that I am meant to cut windows out of and stick to the outside of the building. I contemplated that for a little while as I think it looks cheap and nasty.
So I have embarked on creating my own version of the timbering that I hope will give it some relief and allow me to paint and weather in a way I could not with the sticker. I photocopied the sticker onto ordinary paper, glued that onto 0.20 plastic card and then began the laborious and fine process of cutting my own.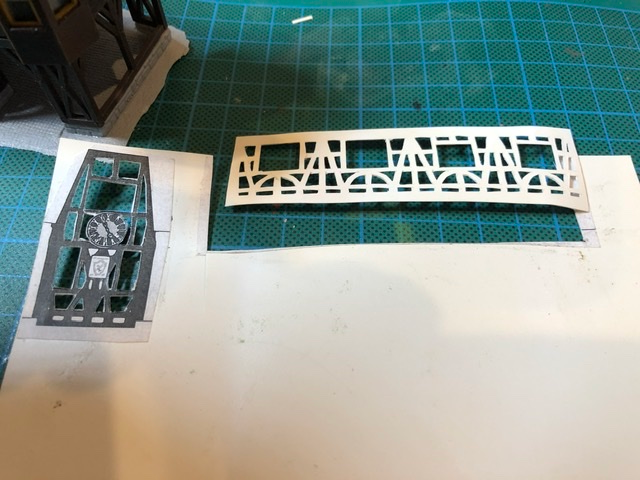 All done and now the process of sticking it on before I can undercoat.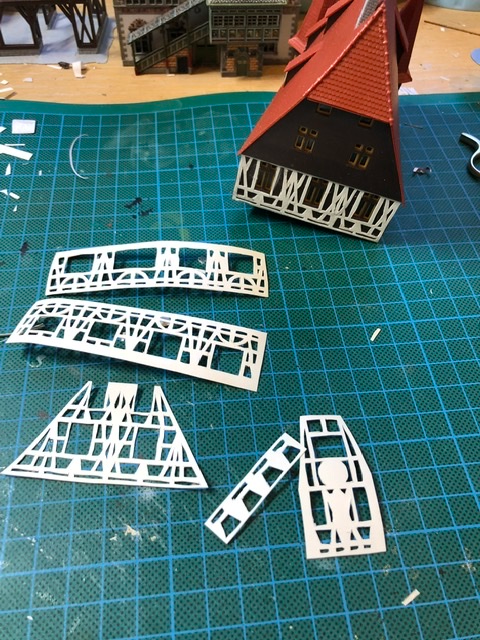 Hopefully more as I progress.